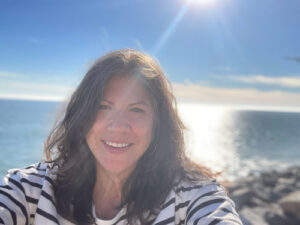 Norma Sardy, owner of Karma Productions, is an experienced line producer with an impressive track record in film, broadcast television, print, and content creation. With over 30 years of experience in the entertainment and advertising industry, she has worked on numerous high-profile projects and established herself as a reliable and efficient production professional.
Born in Lima, Peru before moving to the United States, Norma developed an early interest in film and television production. She earned a BA in Media Production from Florida State
 University, where she honed her skills in production management and budgeting. After graduation, she landed her first job as a production assistant on a national television show, and quickly worked her way up the ranks to become a line producer. She has lived in Los Angeles, London, and Florida and worked all over the world.
Throughout her career, Norma has demonstrated a keen eye for detail and a strong ability to manage complex productions. She has worked on a wide variety of projects, ranging from commercials to TV shows to scripted dramas, and from print campaigns to digital content creation. She has also collaborated with some of the biggest names in the industry, including award-winning directors, photographers, producers, and talent. In addition to her production expertise, Norma is known for her collaborative spirit and positive attitude. She understands the importance of teamwork in achieving a successful production, and is always willing to go above and beyond to support her colleagues and clients. She is also committed to diversity and inclusivity in the industry, and actively seeks out opportunities to promote underrepresented voices.
With her vast experience, Norma has become an expert in all aspects of production, including budgeting, scheduling, casting, and location scouting. She is also adept at managing large teams of crew members and ensuring that every aspect of the production process runs smoothly and efficiently.
Norma's passion for storytelling is evident in the quality of the content she produces. Her ability to work within tight budgets and timelines without compromising on the creative vision has earned her the respect and admiration of clients and colleagues alike.
Today, Norma continues to work as a line producer, overseeing all aspects of production from pre-production to post-production. She is a sought-after professional in the industry, and her clients value her extensive experience, sharp instincts, and unwavering commitment. With her extensive knowledge of the production process and her unwavering commitment to excellence, Norma Sardy is a valued asset to any project she takes on.
Partial credits include:
Universal Studios FL & Hollywood, Halloween Horror Nights, Dick's Sporting Goods, Golf Galaxy, One Touch, Citgo, IBM Watson, Armor All, Special Olympics, Minnesota Twins, Anderson DDB, DDB Health, Genentech, USTA, Nemours Children's Hospital, Orlando Convention and Visitor's Bureau, Country Financial, SRS Distribution, MetLife, Rayovac, Traeger, Tommie Copper, Troy Bilt, Miracle Grow, Atlanta Medical Center, JG Wentworth, Moffitt Cancer Center, Jacksonville Orthopaedic Institute, Krystal Burgers, Tanger Outlets, Farah & Farah, Jewish Academy of Orlando, Nickelodeon, The Billboard Music Awards